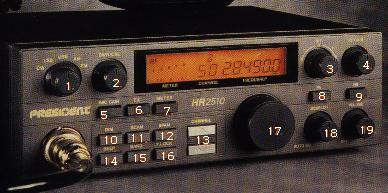 1. Mode Selector - Selects CW, AM, FM, USB, or LSB.
2. SWR CAL - Adjust the calabration of the SWR meter wile in the SWR CAL mode.
3. RIT Control - The Receiver Incremental Tuning control is used to fine tune the received signal.
4. RF Gain Control. - Varies the RF input to the receiver and helps eliminate strong, adjacent signals.
5. Mic Gain. - Selects a lower Mic gain level.
6. TX Switch - Locks the transmitter in the on position.
7. Meter Switch - Selects either RF/S, MOD, SWR CAL, or SWR.
8. PA Switch - Selects the PA Mode if an external PA speaker is connected.
9. NB Switch - Helps eliminate interference generated by vehicle ignition systems.
10. Dim Switch - Selects the level of the backlight of the display.
11. Scan Control - Used to scan up to 50 channels in each band segement.
12. Span Control - Select 10 KHz, 1 KHz, or 100 Hz steps for the VFO.
13. Channel ↑ ↓ - Step up or down to the next 10 KHz channel in the currently selected band segement.
14. Beep Selector - Press this switch to casue a short beep tone to be transmitted whenever you release the PTT switch. [also known as a "Roger Beep"]
15. Band Control - Selects one of four band segements.
16. F. Lock - Disables all frequency controls [except RIT] to prevent accidental changes of frequency.
17. VFO Control - Digital Variable Frequency Oscillator control used to select the desired frequency.
18. Squelch - Used to eliminate the "rushing" noise between transmissions.
19. Volume Control - Turns the unit on or off and adjusts the volume.